Do you want to learn how to create the perfect call to action to get customers to do what you want them to?
Your call to action (CTA) is the most essential part of your marketing campaign. It's also the difference between losing a potential customer and making a sale.
In this article, we'll show you how to create persuasive calls to action. We'll do this by going over:
By the end of this post, you'll be able to write better CTAs and achieve measurable success from your own marketing campaigns.
For now, let's begin with the basics.
What Is a Call to Action?

A call to action (CTA) is a word, phrase, or sentence that prompts the reader to take a specific action. CTAs are usually placed in the form of a button in a prominent spot on your webpage: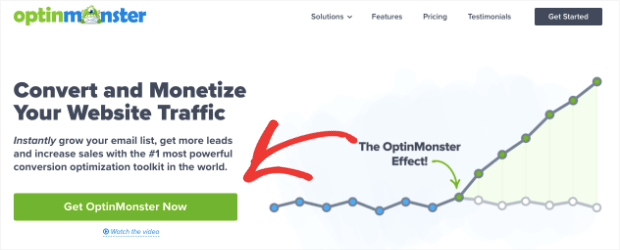 With the right call to action, you can persuade people who visit your site or read your content to do something specific, such as:
Buy a product
Grab a download
Sign up for a newsletter
Read the rest of an article
Share a piece of content on social media
And more.
But it's important to remember that not all calls to action are created equal. Some are strong, powerful, and persuasive.
Others are weak, boring, and uninviting.
In a moment, we'll get into how to create the perfect call to action for your website and content. Before that, though, let's check out 5 common types of CTAs and where you can use them.
5 Common Types of CTAs

Whenever you create a piece of content, you likely want to insert a call to action. This is true for blog posts, YouTube videos, social media posts, podcast episodes, and more.

But here are 5 of the most common places you'll see CTAs online:
Web page buttons
Optin campaign buttons
Anchor texts in blog posts
Buttons or text in emails
Text in social media posts
Let's quickly look at each type.
1) Web Page Buttons
This is one of the most common placements for a call to action. If you've ever been to a webpage, you've seen them before. In fact, we've already seen one this article: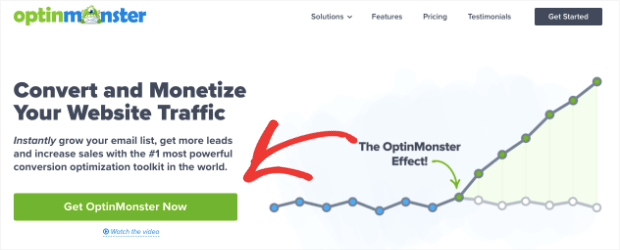 When done well, CTA page buttons will be large and stand apart from the rest of the page.
You'll notice in the image above, OptinMonster's call to action has a bright green background and is supported by a compelling headline with subheader text.
The web copy leads your eyes down to the call to action, Get OptinMonster Now .
Also, the button is easy to click because it's so big. This is particularly helpful for mobile users who navigate your page with their fingers (not a mouse cursor).
2) Optin Campaign Buttons
When you show an optin campaign (like a popup, slide-in box, floating bar, and so on), your copy will be incredibly important. It needs to be short, catchy, and persuasive.
But most importantly, it needs to lead to a powerful call to action button: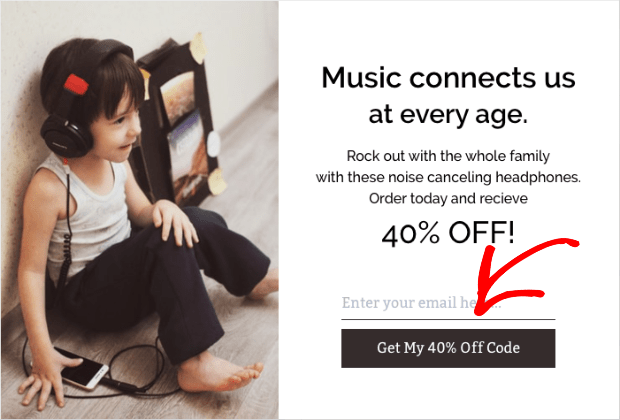 The image above is from a popup campaign built with OptinMonster in under 10 minutes.
The call to action was modified to show the offer in the button, Get My 40% Off Code .
This works because many of your site's visitors won't take the time to read every word on your optin campaign. Instead, they'll browse to the spots that catch their attention the most.
When their eyes land on the button, they're tempted to click because they instantly see the benefit of doing so.
3) Anchor Texts in Blog Posts
In many blog posts, you'll see a call to action written out with a link embedded somewhere in the text. You may have noticed these in OptinMonster's blog: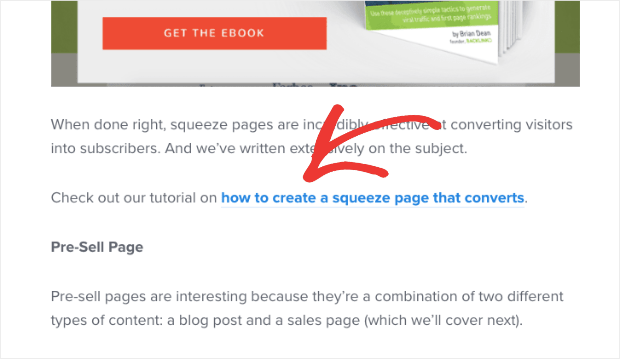 In the image above, the part in blue is the clickable link that redirects users to another tutorial. But the entire sentence (starting with "Check out our tutorial") is the call to action.
In-text CTAs can help improve user experience (UX). You can invite your readers to go read related posts, look at other tutorials if they're confused about a concept, or go follow you on social media.
The most important call to action, though, is when you ask users to signup for or buy your product. These CTAs are usually placed somewhere early in the content and at the end of your post:

You can test where your CTAs function best in your blog with your audience.
4) Buttons or Text in Emails
You can also use CTAs in email marketing . We see these every day when we get emails asking us to:
Read the full article
Download a resource
Take advantage of a discount or freebie
Get more information about the subject of the email
Here's an excellent example from our Customer Success Manager, Angie:

Notice the color of the call to action is a huge contrast to the white background. That draws your attention and makes the CTA impossible to miss.
5) Text in Social Media Posts
If you use social media as part of your marketing strategy, you know how important a good call to action is.
You need to make the call to action in your social media post incredibly clear. That's because other things will always be fighting for your users' attention on social platforms.
But you want them focused on your offer or CTA.
Take this example from an OptinMonster post on Facebook: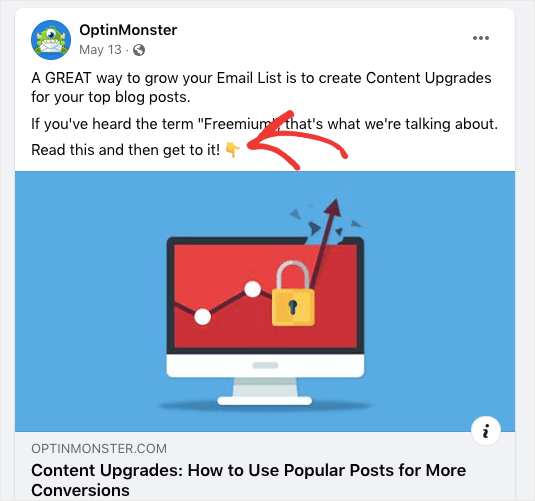 The call to action is Read this and then get to it! That's about as straightforward as it gets.
This helps readers understand what the next step is to reach whatever problem you're helping them solve.
Now that we've seen the types of CTAs you can create, let's look at how to make them. Here are 5 actionable tips you can start using today to make the perfect call to action.
How to Create the Perfect Call to Action
When you're writing a CTA, the words you use matter. A lot.  Because it's the language in your CTA that will push people to click or to move on.
Here are 5 actionable tips to make sure you're writing strong calls to action.
1. Use Action Words
The best calls to action use action words that let viewers know the specific action they should take next.
Here's an example of a popup campaign built with OptinMonster: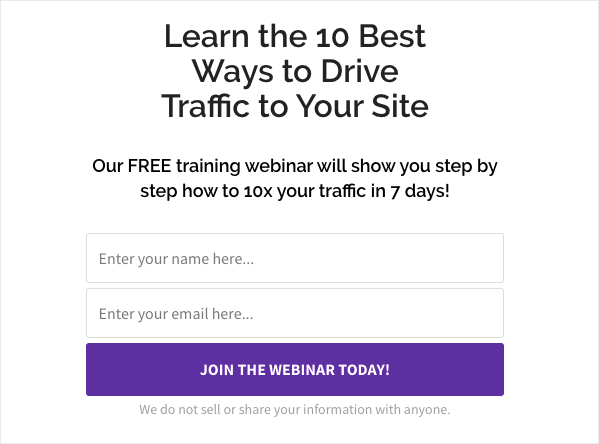 Notice that the CTA is clear and tells the user exactly what to do: Join the Webinar Today !
Plus, it uses the action verb "Join" to motivate people to signup.
Struggling to come up with the right words for your CTA? We've got you covered. You can use power words to evoke an emotional response and create more persuasive calls to action.
Here's a helpful list of over 700 power words to get you started.
2. Focus on Value
Some CTAs focus on the value they offer. This is usually accomplished by adding the word "Free" or "Risk-Free" to your calls to action.
Here's an example from TrustPulse's homepage: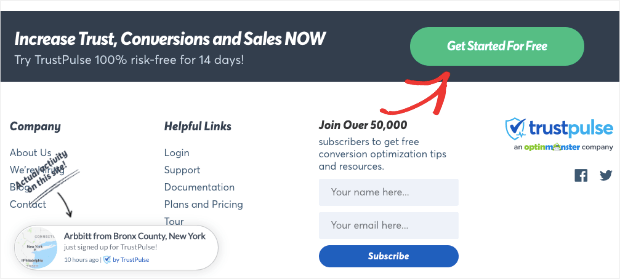 This CTA button is very tempting to click. Letting your users know that they can get something for free (or at a discounted rate) directly in the CTA will definitely boost your conversions.
3. Foster Curiosity and Anticipation
A good call to action relies on psychology , combining curiosity with anticipation .
A great way of building curiosity is through gamification. If you turn your optin forms into a game, you're more likely to get people to click your CTA.
OptinMonster offers a Coupon Wheel optin that can be used to gamify any promotions you run: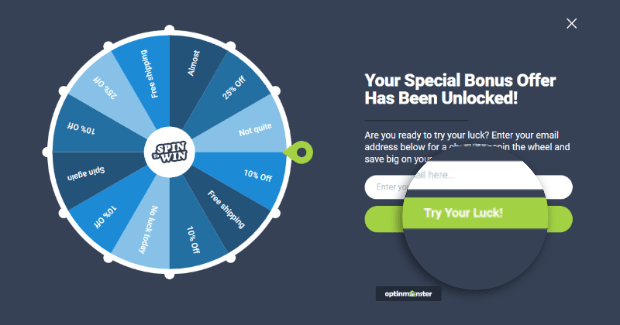 By providing multiple prizes and using the CTA Try Your Luck , many visitors are anxious to sign up and play.
4. Design Your CTA Buttons
Design is also an important part of getting the CTA right.
But how do you make your call to action stand out? Let's take a look at a few key CTA design elements.
Most marketers agree that you should:
Use white space effectively, so your button stands out
Ensure that your CTA button contrasts with the colors on the rest of the page
Frame the button to create contrast, if necessary
Pay attention to the size of the button because it has to be large enough to click but not overwhelming
Optimize the CTA button for mobile
Again, we try to check off all these boxes here at OptinMonster: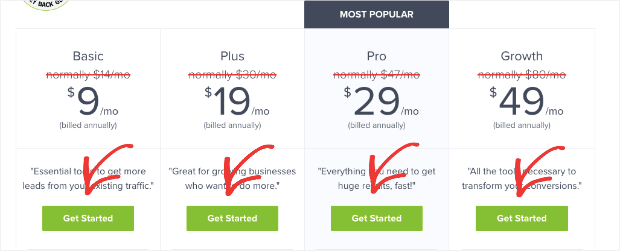 Notice that in the image above, 2 things are happening:
Each pricing plan has its own CTA (to stay organized)
Each CTA stands out from the background
We use a bright color on the CTA button as a way to draw attention to it. With that bright green button over a white background, our call to action is hard to miss.
If you need some design help, check out this article on 16 web design principles you should start using today.
5. Test Your Calls to Action
It's not enough to create a call to action and trust your gut about how to write and design it.
You need data to see how your CTA is working.
Some professional copywriters struggle with writing good calls to action every day. So don't get discouraged if it takes you some time to find the right one. How do you know when you've found the right one, though?
The data will tell you. 🤓
The best way to do this is by split testing . You can experiment with button color and size, button text, text links, form, page design, and CTA placement. Start with one design and quickly create an A/B split test in your OptinMonster dashboard: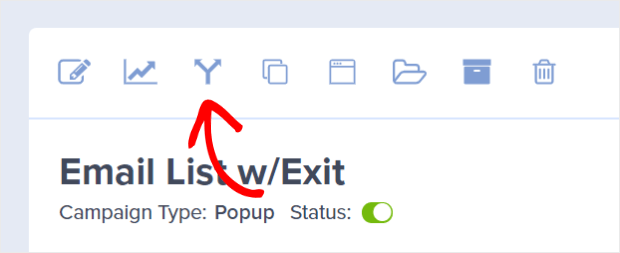 Then change 1 element and run the test. When you're done, choose the one with the highest conversion rate. Finally, rinse and repeat by changing 1 other element .
Why change only 1 element at a time? Because then you'll know which specific parts are working with your audience, and which ones aren't.
Split testing is an essential part of creating the perfect CTA. To get started, see our list of A/B tests to run on your popups to get more subscribers.
And that's it. You now know the fundamentals of writing the perfect call to action!
With that in mind, let's look at 11 examples of killer CTAs used by high-converting brands.
11 Awesome Examples of Powerful Calls to Action

The following examples are taken from popular brands who nailed their calls to action. Let's dive in!

1) Crossrope

Crossrope is a fitness brand that gets people in shape through their jump rope programs. In one of their optin campaigns, they include a clever CTA: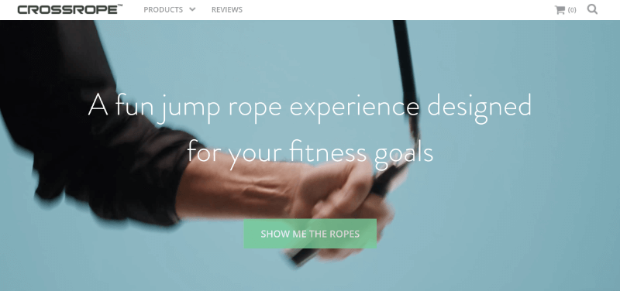 Using the play on words Show Me the Ropes , they were able to boost conversions.
Crossrope actually built this campaign (and others) with OptinMonster. Then they saw a 900% increase in their email subscriptions .
2) Shockbyte
Shockbyte, a game server host provider, used this exit-intent popup to capture abandoning visitors. Their call to action focuses on providing value: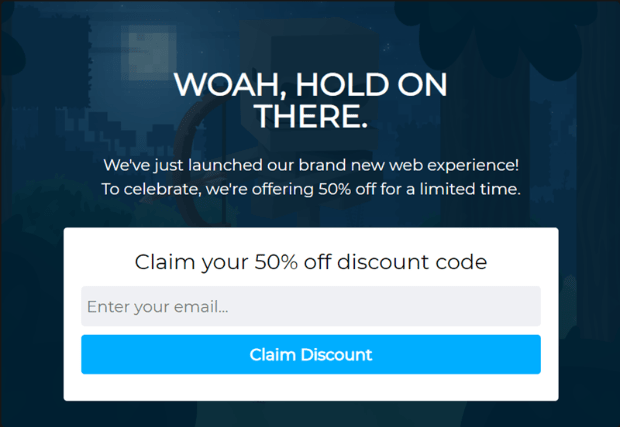 The message is clear: "click here to save money." That makes this CTA particularly powerful.
In fact, Shockbyte used campaigns just like this to more than double their sales conversion rate .
3) Singularity University
Singularity University helps leaders, organizations, and entire industries grow.  They often hold virtual summits. One of the challenges they face, though, is making sure people remember to attend.
They have an excellent optin campaign to remind visitors about their summits: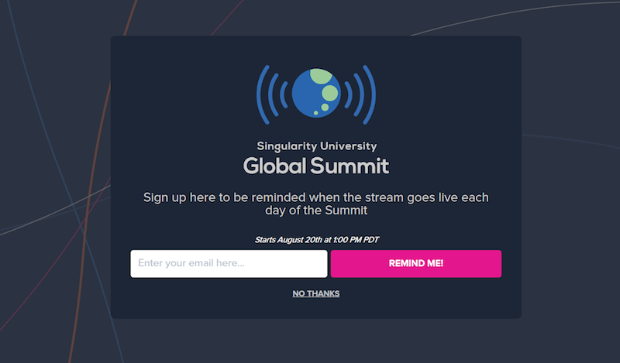 Their call to action, Remind Me! , is a great message that lets users know why they're signing up: to get notifications ensuring they don't miss any valuable content.
As a result, Singularity University got over 960 new leads from that one campaign .
4) Cracku
Cracku helps students prepare for upcoming exams. On an offer they ran, they used a countdown timer to build a sense of urgency: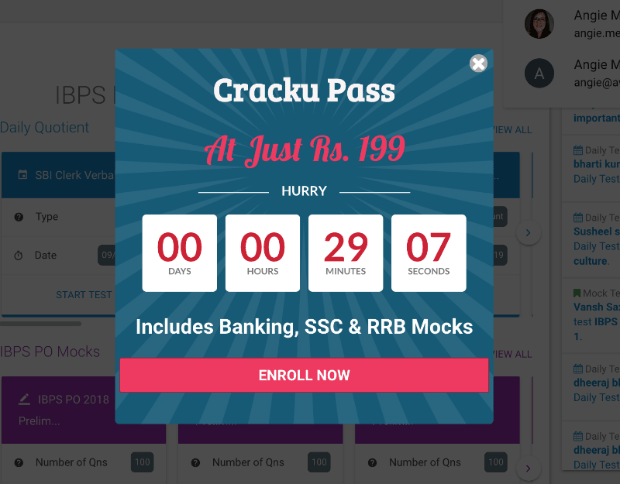 Then they reinforced that with the call to action, Enroll Now .
The word "Now" inspires readers to act fast. It's no surprise that Cracku used this campaign to increase conversions by 300% .
5) Bulkly
Bulkly is a social media tool for Buffer. It automatically reuses your social media updates and sends them to Buffer to make scheduling posts even easier.
They offered a free email course with the following campaign: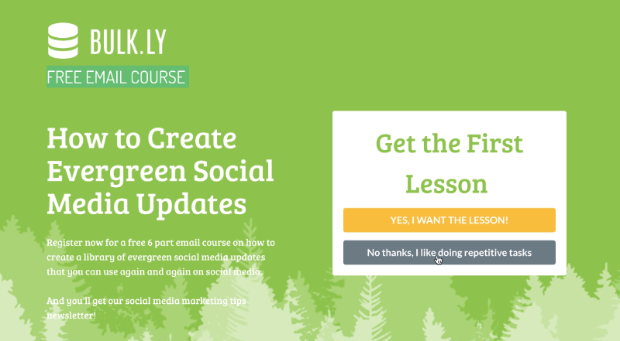 Notice that they did 2 things with their call to action:
Told users exactly what they would receive (the lesson)
Made the alternative sound off-putting
If you use a Yes/No campaign , you can make your "No" option reinforce your call to action. Bulkly makes their "No" option, No thanks, I like doing repetitive tasks .
Since most people wouldn't agree with this statement, more visitors will click on the "Yes" option.
This was so effective that Bulkly increased their free trial signups by 135% .
6) OptinMonster
We've already seen a few calls to action from OptinMonster, but here's one from an email campaign that did particularly well:

Notice there's no button, just an anchor text and a link. This call to action invites users to learn how to create Facebook ads that convert.
Since our email lists are properly segmented , the email could be personalized to the right audience. As a result, a clear call to action like this will drastically boost conversion rates.
7) Sendinblue
Sendinblue is one of the best email service providers on the market. They coupled their homepage CTA with eye-grabbing animation effects of a person driving away in a car:

Sendinblue's animation reinforces the light-hearted CTA copy, " Take a free test drive!"
This message is clear, inviting, and focuses on value (with the word "free").
8) RafflePress
RafflePress is an awesome online giveaway plugin. It helps your contests go viral so you can:
Grow your followers
Make more sales
Increase your site traffic
And much more. We love their homepage CTA: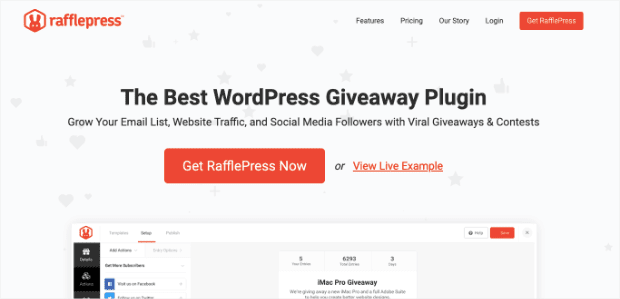 This is an effective call to action for 2 reasons:
It's a huge button that makes the CTA nearly impossible to miss. This is great for mobile users who are less accurate when they click CTAs and need larger buttons.
The color is another component that makes it stand out. The website's background is light grey, but the button color is bright orange.
As soon as you land on this page, your eyes immediately see the call to action, and you're tempted to click.
9) SEMrush
SEMrush is a great tool to help with your digital marketing strategy. When you land on the homepage, they get straight to the point:

SEMrush immediately invites you to start using their services. They don't offer to let you "learn more" or "explore products." They take a more direct approach.
You simply enter a domain name, keyword, or URL that you want to explore. Then the CTA follows with Start now .
The color contrast between the background and button also helps strengthen this call to action. But the clear and concise message gets users excited to dive into the program.
10) Grammarly
Grammarly is a spelling and grammar checker that works for all your documents, including emails. It makes sure your writing is effective and mistake-free.
Here's a call to action from their Twitter account: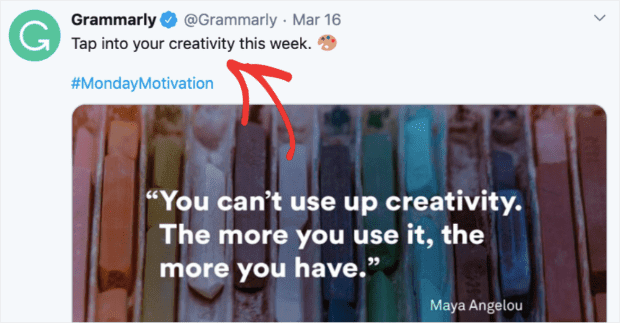 This CTA works because it uses the same kind of language as its users. Because their audience consists of writers, Grammarly creates a powerful call to action, inviting users to Tap into their creativity .
Notice that their entire tweet is a call to action. This is a good lesson for social posts proving that sometimes less is more.
11) WordStream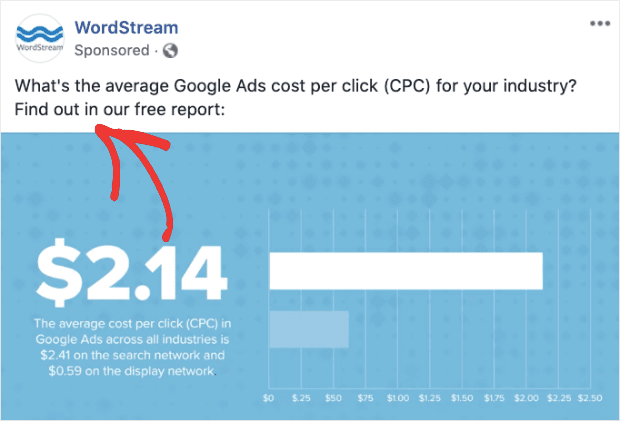 This is an excellent example of a clever CTA for social media. This Facebook Ad does 2 things:
Creates curiosity with a question
Offers to resolve that curiosity if you click the CTA
By using the phrase " Find out" to start their call to action, they leverage FOMO (fear of missing out). It makes users want to get on the inside of this secret.
And there you have it. In this post, we covered:
What a CTA is
5 common types of calls to action
5 actionable tips for creating the perfect CTA
11 great examples of powerful calls to action that convert
But remember, calls to action don't exist in a vacuum. They usually require supporting text to strengthen them. To write better copy to reinforce your CTAs, we recommend the following posts:
Once you learn to write compelling copy with persuasive CTAs, you'll see dramatic increases in conversions and sales.
Ready to put these call to action tips into practice? Sign up for OptinMonster now and start creating high-converting campaigns today!